NATE Certified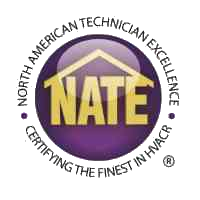 There are plenty of technicians that can deal with HVAC systems, but they're not all equal. Modern HVAC systems are complicated pieces of equipment and it requires proper training and equipment to handle them well. Knowing how to install a new system takes certain skills. Choosing the right system for your home or building means accounting for numerous factors. Diagnosing problems and fix them correctly demands sharp skills to understand and recognize root causes.
How can you be sure that your AC contractor is up to the task? Look for NATE certification, which is an independent organization that certifies installation and service technicians. In order to be certified, techs need to pass rigorous, knowledge-based tests to demonstrate their ability and real-world knowledge.
At Choice Air Care, you can be sure that you're getting a certified technician that is highly qualified to work on your air conditioning unit. NATE certification assures our clients that they're being served by the best in the industry.
We service all major brands, including Trane, Goodman, Rheem, Carrier, American Standard and Lennox.
We Answer 24/7 and Come at Your Convenience